Why our exosome so pure?
Answer: By targeted filtration, our filter of specific binding treatment removes protein contaminant to isolate exosome at 95% high purity.

Click to see pure exosome images
Our filtration exosome isolation method optimize your exosome research result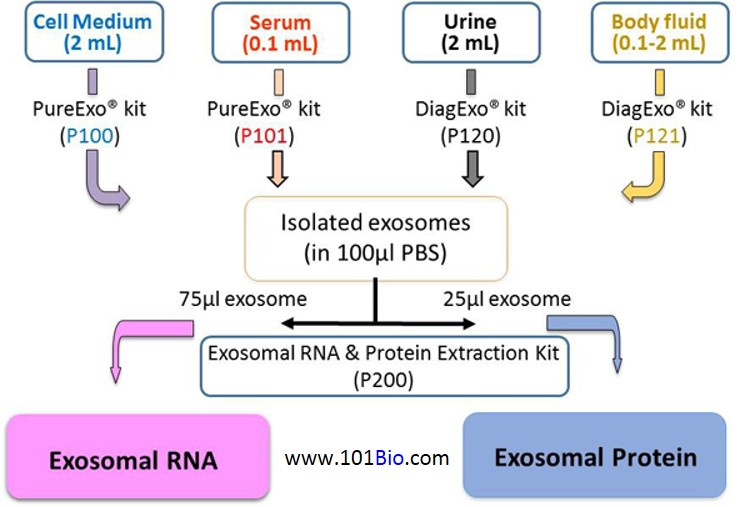 Our kits have gained satisfaction from our customers from
NIH, Harvard, Stanford, Sigma, Qiagen, Johns Hopkins, UCSF, UCLA, MD Anderson and Cornell, etc.
Vendor
101

Bio

.com
Competitor 1
Competitor 2
Isolated Exosome Purity
High at 95%
Low
Low
Yield of Exosome
10 x
1 x
1 x
Small RNA Transfectable
Yes
No
No
Good size distribution of exosomes isolated by our PureExo kit
(See larger screen click:

)
Nanoparticle tracking analysis shows good size distribution, morphology and amount of exosome isolated by 101bio PureExo kit.
Citation 1:
Citation 2:
Citation 3:
Citation 4:
Citation 5:
Citation 6:
Citation 7:
Citation 8:
Citation 9:
Citation 10:
Citation 11:
Citation 12:
Citation 13:
Citation 14:
Citation 15:
Citation 16:
Citation 1:
(APSselect is a collection of the very best original research papers published by the American Physiological Society. Each month, the most outstanding recently published papers from our ten research journals are selected and made available through this multi-journal website.)
Citation 2:
Citation 3:
Citation 4:
Citation 5:
Citation 6:
Citation 7:
Citation 8:
Citation 1:

Plasma Membrane Protein
Extraction Kit
(mammalian cells or tissues)
Cat.#:

P503 Link
Citation 1:
Citation 2:
Citation 3:
8-min. Cytoplasmic & Nuclear
Protein Extraction Kit
(cells & tissues)
Cat.#:

P504 Link
Citation 1:
Frismantiene A, Dasen B, Pfaff D, Erne P, Resink TJ, Philippova M.
T-cadherin promotes vascular smooth muscle cell dedifferentiation via a GSK3β-inactivation dependent mechanism.
Cell Signal.
2016 Feb 22;28(5):516-530. doi: 10.1016/j.cellsig.2016.02.014.


Citation 2:
Matsumura K, Nakazawa T, Nagayasu K, Gotoda-Nishimura N, Kasai A, Hayata-Takano A, Shintani N, Yamamori H, Yasuda Y, Hashimoto R, Hashimoto H.
De novo POGZ mutations in sporadic autism disrupt the DNA-binding activity of POGZ.
J Mol Psychiatry.
2016 Apr 21;4:1. doi: 10.1186/s40303-016-0016-x. eCollection 2016.

Citation 3:
Koichi Inouea, Eisuke Sakuma, Hiroyuki Morimoto, Hayato Asai, Yoshinori Koide, Tiandong Leng, Ikuo Wada, Zhi-Gang Xiong, Takatoshi Ueki.
Serum- and glucocorticoid-inducible kinases in microglia.
Biochem Biophys Res Commun.
2016 Sep 9;478(1):53-9. doi: 10.1016/j.bbrc.2016.07.094. Epub 2016 Jul 22.

Citation 1:

Citation 1:
Citation 2:
Citation 3:
Citation 4:
Citation 5:
Citation 6:
Citation 7:
Citation 8: