PureExo® Exosome Isolation kit
(for cell culture media)
Why our exosome so pure?
Answer: By targeted filtration, our filter of specific binding treatment removes protein contaminant to isolate exosome at 95% high purity.

Click to see pure exosome images
Name

PureExo® Exosome Isolation kit

(for cell culture media)

Cat. #

P100S

$ 109.00

( 2 reactions) order from

Fisher

(Fisher Cat.# NC0929477)




P100

$ 299.00

(10 reactions) order from

Fisher

(Fisher Cat.# NC1286079)




P100L

$1149.00

(40 reactions) contact Fisher




P100K

$ 269.00

(Solution A, B and C, 10 rxn)




We also offer purified exosome:




How to pay with

Also can buy from :

Application

Isolate pure exosome from cell culture media (supernatant). This kit yields much higher purity than exosome precipitation method. This product is for research use only.

Yield

Each reaction can process 2 ~ 4 ml cell culture medium. The yield of each reaction can yield pure exosome suspended in 50 ~ 200 µl PBS .

Description

P100 kit is for exosome purification / isolation at high yield and purity from cell culture media.

Easy to use: No ultra-centrifugation (< 2 hours)
10 fold higher yield (vs. other kits and ultracentrifuge)
Save cost (vs. antibodies-beads method)
Isolate Pure exosome (>95% purity vs. 25% purity by exosome precipitation method)
Intact exosome (good morphology)

Use as little as 2 ml cell media to achieve high yield of exosomes for any downstream applications: EM study, exosome label, exosome subpopulation, qRT-PCR profiling of exosomal miRNAs, and gel analysis of exosomal proteins.

Shipping / Storage

Ship and store at room temperature. Upon receiving keep all bottles

upright

, in cool and dark place.

Shelf Life

12 months

Manual (protocol)

101

Bio

.com Exosome Isolation Kit

Troubleshooting

Data Sheet

Citation

Citation 1:

Citation 2:

Citation 3:

Citation 4:

Citation 5:

Citation 6:

Citation 7:

Citation 8:

Citation 9:

Citation 10:

Citation 11:

Citation 12:

Citation 13:

Citation 14:

Citation 15:

Citation 16:

Citation 17:

FAQ

Components

Components
Amount
Storage
Cat.#: P100S
Cat.#: P100
Cat.#: P100L
Solution A (blue)
0.5 ml
2.5 ml
10 ml
Room temperature
Solution B
0.5 ml
2.5 ml
10 ml
Room temperature
Solution C
2 ml
10 ml
10 ml x 4
Room temperature
PureExo&reg Column
2
10
40
Room temperature

Remarks

Because the exosome yield of this exosome isolation kit is 10 fold higher than all other kits, you can start with only 2 mL medium. The maximum medium volume of each reaction is 4 ml from at most 5 x 105 cells. One PureExo® Column is only for one reaction. Do not exceed 4 mL medium or 5 x 105 cells to avoid indistinct layer separation and column clogging.
Our kits optimize your exosome research result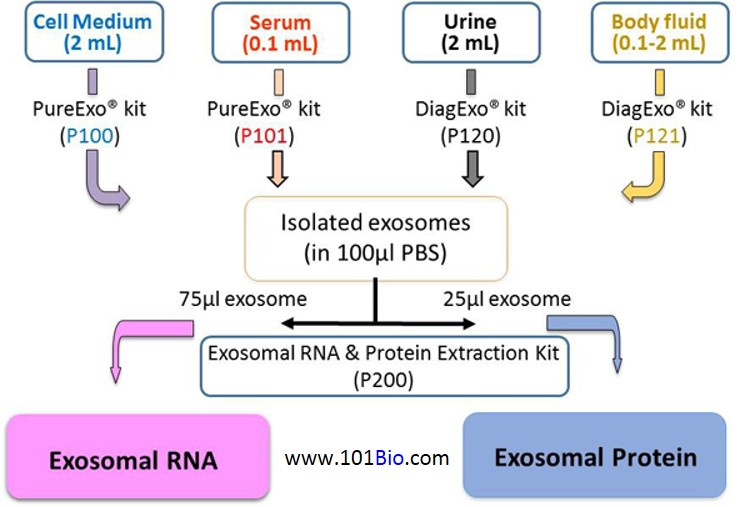 Good size distribution of exosomes isolated by our PureExo® kit
(See larger screen click:

)
Nanoparticle tracking analysis shows good size distribution, morphology and amount of exosome isolated by 101bio PureExo® kit.