Bacteria
Total Protein Extraction Kit
Name

3-min. Bacteria Total Protein Extraction kit

Cat. #

P512L

Researchers also buy our

Protein Analysis Reagents

(HRP, Antibody enhancer, WB stripping solution, etc.)

How to pay with

Also can buy from :

Application

Fast extraction of denatured total proteins from bacteria.

Extracted protein can bed used in SDS-PAGE, immunoblottings, ELISA and other applications.

This product is for research use only.

Product Size

P512L: 50 rxn

Description

This kit provides the most rapid method for preparation of whole bacterial cell extract.

The kit contains sufficient materials for extraction of total proteins from 100 ml E.coli culture.

Shipping / Storage

Ship and store at room temperature.

Shelf Life

12 months

Manual (protocol)

101

Bio

.com 3-min. Bacteria Total Protein Extraction kit

Components

| Components | Amount | Storage |
| --- | --- | --- |
| Bacterial lysis buffer A | 25 mL | Room temperature |
| Buffer B | 2.5 mL | Room temperature |
| Filter Cartridges | 50 | Room temperature |
| Collection tubes with cap | 50 | Room temperature |

Remarks

The use of protease inhibitors is not necessary prior to extraction. However if downstream application takes significant amounts of time or the protein extract will be stored for longer period of time, addition of protease inhibitor to extracted lysate is recommended.
Multiple filter cartridges may be used if larger amount of cell lysate is desired.
To study protein phosphorylation, phosphatase inhibitors must be added to lysis buffer prior to use.
This protocol is developed and validated by 101Bio's OEM partner. Spin column based protein extraction and cell fractionation technologies were developed by 101Bio's OEM partner.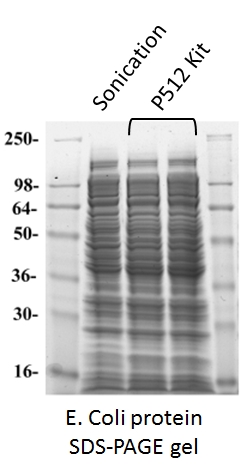 Protein Analysis Reagents
How to pay with