Cytoplasmic & Nuclear
Protein Extraction Kit
&nbsp &nbsp
(cells & tissues)
Name

8-min.

Cytoplasmic & Nuclear

Protein Extraction Kit (

cells & tissues

)

Cat. #

P504S

$119.00

( 4 reactions) contact Fisher




P504

$249.00

(20 reactions) order from

Fisher

(Fisher Cat.# NC1337256)




P504L

$419.00

(50 reactions) contact Fisher

Researchers also buy our

Protein Analysis Reagents

(HRP, Antibody enhancer, WB stripping solution, etc.)

How to pay with

Also can buy from :

Application

Fastest method to extract native cytoplasmic and nuclear protein from mammalian cells or tissues.

Total procedure is less than 10 minutes.

Extracted protein can be used for SDS-PAGE, immunoblottings, ELISA, IP, protein localization, gel mobility shift assays, 2-D gels, etc.

This product is for research use only.

Description

This kit is for fast extraction of native cytoplasmic and nuclear proteins from cultured mammalian cells or tissues.

This product works as good as the one sold by Thermo Fisher (Cat.# 78833) but 9 times faster (8 min. vs. 70 min.)

Fast

- as quick as 5 to 8 minutes
50% higher nuclear protein yield than other brand kits

Shipping / Storage

Ship at room temperature. Store at 4℃

Shelf Life

12 months

Manual (protocol)

101

Bio

.com Cytoplasmic & Nuclear Protein Extraction Kit (cells & tissues)

Citations

Citation 1:

Frismantiene A, Dasen B, Pfaff D, Erne P, Resink TJ, Philippova M.

T-cadherin promotes vascular smooth muscle cell dedifferentiation via a GSK3β-inactivation dependent mechanism. Cell Signal.

2016 Feb 22;28(5):516-530. doi: 10.1016/j.cellsig.2016.02.014.

Citation 2:

Matsumura K, Nakazawa T, Nagayasu K, Gotoda-Nishimura N, Kasai A, Hayata-Takano A, Shintani N, Yamamori H, Yasuda Y, Hashimoto R, Hashimoto H.

De novo POGZ mutations in sporadic autism disrupt the DNA-binding activity of POGZ. J Mol Psychiatry.

2016 Apr 21;4:1. doi: 10.1186/s40303-016-0016-x. eCollection 2016.

Citation 3:

Koichi Inouea, Eisuke Sakuma, Hiroyuki Morimoto, Hayato Asai, Yoshinori Koide, Tiandong Leng, Ikuo Wada, Zhi-Gang Xiong, Takatoshi Ueki.

Serum- and glucocorticoid-inducible kinases in microglia. Biochem Biophys Res Commun.

2016 Sep 9;478(1):53-9. doi: 10.1016/j.bbrc.2016.07.094. Epub 2016 Jul 22.

Components

Components
Amount
Storage
Cat.#: P504S
Cat.#: P504
Cat.#: P504L

Cytoplamic extraction buffer

2 mL
10 mL
25 mL
4℃

Nuclear extraction buffer

2 mL
10 mL
25 mL
4℃

Filter Cartridges

4
20
50
Room temperature

Collection tubes with cap

4
20
50
Room temperature

Remarks

Protease inhibitors is not necessary prior to extraction. However if downstream application takes significant amounts of time or the protein extract will be stored for longer period of time, addition of protease inhibitors to extracted lysate buffer is recommended.
The nuclear extraction buffer contains 300 mM salt, for some applications, dilution or desalting of the extract may be needed.
The capacity of protein extraction filter cartridge is 500 µL. Multiple filter cartridges can be used if larger amount of cell lysate is processed.
For determination of protein concentration, BCA kit (Pierce) is recommended.
To study protein phosphorylation, phosphatase inhibitors (such as PhosStop from Roche) should be added to lysis buffer prior to use.
This protocol is developed and validated by 101Bio's OEM partner. Spin column based protein extraction and cell fractionation technologies were developed by 101Bio's OEM partner.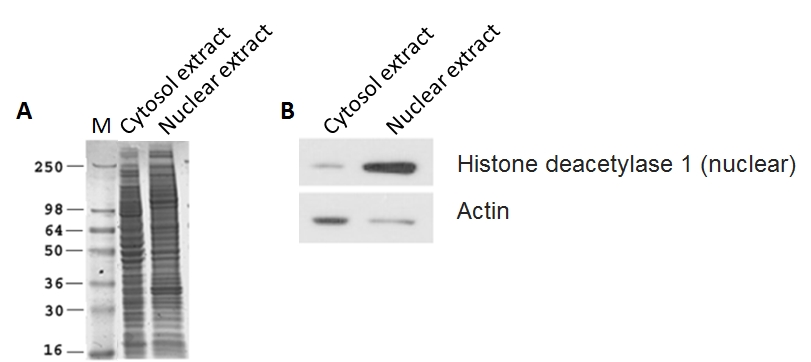 Protein Analysis Reagents
How to pay with